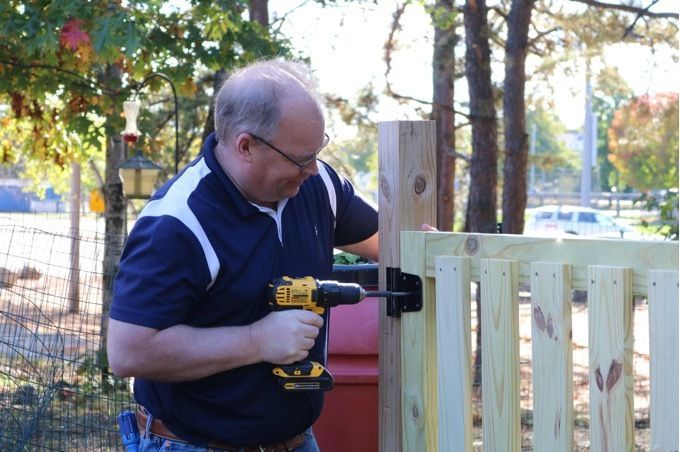 Fidelity Investment employee Scott O'Brien has been a committed volunteer of the Boys & Girls Club for five years now but it wasn't until Fidelity Senior VP and Club Board member Jeff McGoldrick encouraged him to join in Fidelity Cares Day, an annual day of service to the community, that he really got involved. From that day on, he became one of the most ardent supporters and promoters of the Club.
"Jeff was really the one who got me into volunteering," said Scott. "He always talked about the Boys & Girls Club but, when I first came, I didn't realize how big the organization was. Once I walked into the building, it blew me away. After taking a tour, I began to realize how great an impact the Club has on the youth of the community."
Scott was especially struck by the services the Club provided to its members and wanted to do his part in meeting their needs.
"When I was first introduced to the Club, I wasn't aware of all the Club does for the Club members," said Scott. "I didn't know the Club offered tutoring and homework help or provided transportation to and from school or had a designated teen center. The Club's food program is incredible. I had no idea that the Club provided free nutritious meals and snacks to kids daily. It really opened my eyes and made me want to do more."
Over the years, Scott has never hesitated to contribute to the firm's volunteer and fundraising efforts, doing everything from painting the inside walls to sprucing up the building grounds to taking kids Christmas shopping for their families. These initiatives are led by an all-volunteer group of employees who form the Wi-Give Committee. One of the volunteer initiatives Scott most looks forward to is  the Kicks for Kids campaign where employees raise funds to purchase brand new back-to-school shoes for members most in need. Club staff and volunteers then take the kids shopping at Alec's shoes so they can personally select their very own pair.  
"The Kicks for Kids program is not just about raising the money," said Scott. "It's about volunteering and helping out. It's shopping with the kids and seeing their excitement. Some may be wearing sneakers that have been handed down to them by older brothers or sisters who have grown out of their shoes. This might be the first pair of brand-new shoes they've ever had."
Moved by his volunteer experiences, Scott has recently undertaken the responsibility of organizing these volunteer events through the firm's Wi Give Committee. Last year, he took charge of fundraising, planning, and organizing the Christmas Shopping trip for over fifty Club members.
"I learned a lot during those Christmas shopping trips, particularly from the older kids," said Scott. "There was one girl who wanted to buy one thing for her family. It was a microwave. The fact that she was so attentive to her family's needs, I was blown away by that. I don't even think my kids would have thought of that. It was a very eye-opening experience."
Now, Scott is encouraging new employees to get involved whether it's through a one-time donation, participation in a day of service, or a long-term volunteer commitment. He often shares stories of his own experience to help them understand the Club's impact on the community and what they can do to help.
"At work, we talk about the Boys & Girls Club all the time and how we might introduce other people to the organization," said Scott. "One of the things we try to do is build relationships between employees and the Club staff. I, for one, was definitely drawn to how committed everyone is within the organization. I think if you don't have a strong staff or don't have that foundation, it would be hard to make the impact the Club makes. Everyone I've met through the Club has been phenomenal."
He hopes the "bug of volunteerism" as he calls it, will spread not only to the other employees but to his family as well. In fact, he recently invited his son with him to volunteer at the Club where they helped spread mulch and prepare the garden boxes for planting.
"I talk about the Boys & Girls Club all the time with my kids," said Scott. "I'm trying to educate them on how important it is to get involved and to get involved early. I hope they understand how lucky they are and when they're my age, or even now, they'll be encouraged to help support those who need help."
Even in the midst of a pandemic, Scott along with the entire Fidelity Investment team has found a way to be of service to the community's youth, committing to outside volunteer work and exceeding their Kicks for Kids fundraising goal, raising over $16,000 for Back-to-School shoes! Most impressive was their ability to bring in countless new supporters through tireless and passionate campaigning.
"We're constantly trying to think of ways to enlighten other people and really drive home what the Club is about," said Scott. "This year, with everyone working from home because of the pandemic, getting new people has been especially challenging. We couldn't have done it without the dedication and commitment of such a great team."

It goes without saying that, for Scott, the Club holds a special place in his heart.
"I consider the Club an extended family," said Scott. "The Club has remarkable success in changing the trajectory of young people's lives and that is a message I want to spread. There is always more we can do to help so I will always be an advocate for the Boys & Girls Club of Greater Nashua.