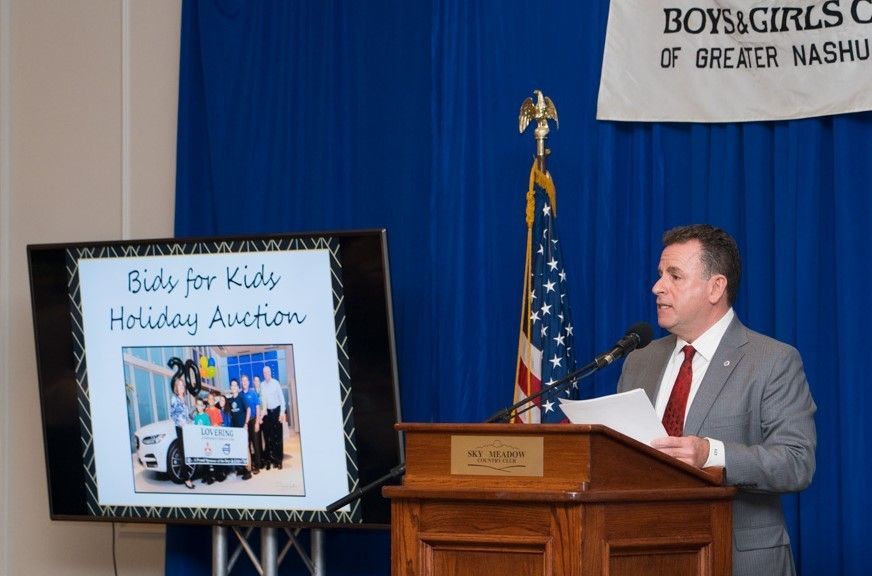 Six years ago, Epic Wealth Strategies President Steve Travaglini joined the Boys & Girls Club of Greater Nashua's Board of Directors where he has served as Vice President for the past three years and Chair of the Club's Bid for Kids Holiday Auction committee for five. On top of his commitment to the Club, Steve participates in the PANMASS challenge every summer in support of the Dana Farber Cancer Institute, another cause he is passionate about. His charitable efforts are often directed towards cancer research and serving the youth population. Being a devoted father of four, he wants to help ensure the growth and success of the next generation.
Though he's only been a board member for half a decade, Steve's first encounter with the Boys & Girls Club goes all the way back to when he was just of boy of 8-years-old, needing a place where he and his six brothers could hang out while father worked six days a week as a hairdresser in Arlington, MA.
"I have great memories of the Boys Club from when I was a child," said Steve. "The Club was where I learned how to swim! Growing up, we didn't have a pool and we didn't travel, so the Club was a great place for us to reach out and expand our friends and our world."
As he grew older and gained success in his professional life after moving to Nashua in 1986, his experiences at Boys Club inspired him to become connected with his community and give back in a big way. He was encouraged to do just that after attending a few of the Club's Bid for Kids Holiday Auction events.
"At the time, I was looking for outlets to give back to the community," said Steve. "The auction was one of the things that really drew me to the Club. Hearing the stories from kids about how the Club changed their life showed the immediate impact the Club can make on a child's life."
Wanting to learn more, Steve accepted an invitation to attend the Club's Discovery Hour where he was taken on a tour of the facility and introduced to the full scope of what the Club offers to the community's youth.
"I was blown away by Discovery Hour," said Steve. "I had this vision of the Boys & Girls Club from when I went and now, I realized, it's so much more than I imagined. Between arts and reading and homework and scholarships and trips and sports and community involvement, it was just amazing."
Since joining the Board, Steve has seen the Club grow in its leadership, capacity and in the programs the Club offers to over 3,000 members that attend annually.
"When I started there were only 18-20 board members and now it's grown to almost 25 members," said Steve. "The Club just continues to grow on so many levels with new programs being added all the time. Camp Mariposa, for one, is a great program that started 4 years ago, offering support for kids affected by the addiction of a family member. The programs that the Club does are just incredible."
Going forward, he hopes to help continue the Club's growth and introduce more people to the Club through Discovery Hour.
"I would tell anyone interested in getting involved to come down for a Discovery Hour tour," said Steve. "There are so many stories that will inspire them. Once you become part of the Boys & Girls Club family, it's easy to become passionate."