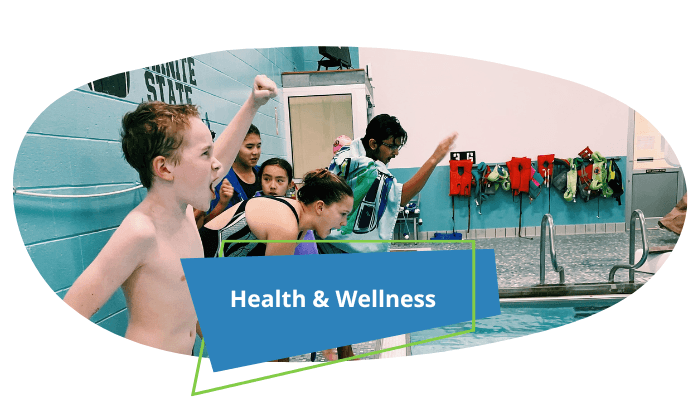 Our health and wellness programs develop young people's capacity to engage in positive behaviors that nurture their well-being, and empower them to set personal goals and grow into self-sufficient adults.
Athletics

Grades K-12
We offer opportunities for participation in both intramural and competitive athletics that utilize our full-size gym and indoor pool. We offer a wide range of athletic programs, including but not limited to: volleyball, basketball, wrestling, swimming, soccer, dodgeball, kickball and more.

Free Healthy Meals and Snacks

Grade K-12
We offer free, healthy meals and snacks to every child who walks through our doors each day. Our meals adhere to strict nutritional guidelines, and are home-cooked at our facility by our Food Services team daily.

Mental Health Counseling

Grades K-12
Our two on-staff mental health counselors and community partners provide one-on-one and small group counseling as needed to our members. There is no extra cost to families, and counseling takes place at our Club facility.

Mighty Minds

Grades 4-6
A social emotional wellness group that meets weekly, and helps young people learn various coping mechanisms, participate in exercises in mindfulness, and build resilience.

Positive Action

Grades 4-6
A leading social emotional learning program that embeds academic content in lessons designed to develop an intrinsic interest in learning & promote pro-social behavior. Positive Action is based on the intuitive philosophy that we feel good about ourselves when we do positive actions.

Smart Moves

Grades K-12
SMART Moves is a prevention and education program that addresses problems such as drug and alcohol use and premature sexual activity.

Smart Girls

Grades 4-12
SMART Girls provides a safe space for girls to explore health, fitness, prevention/education and self-esteem enhancement.