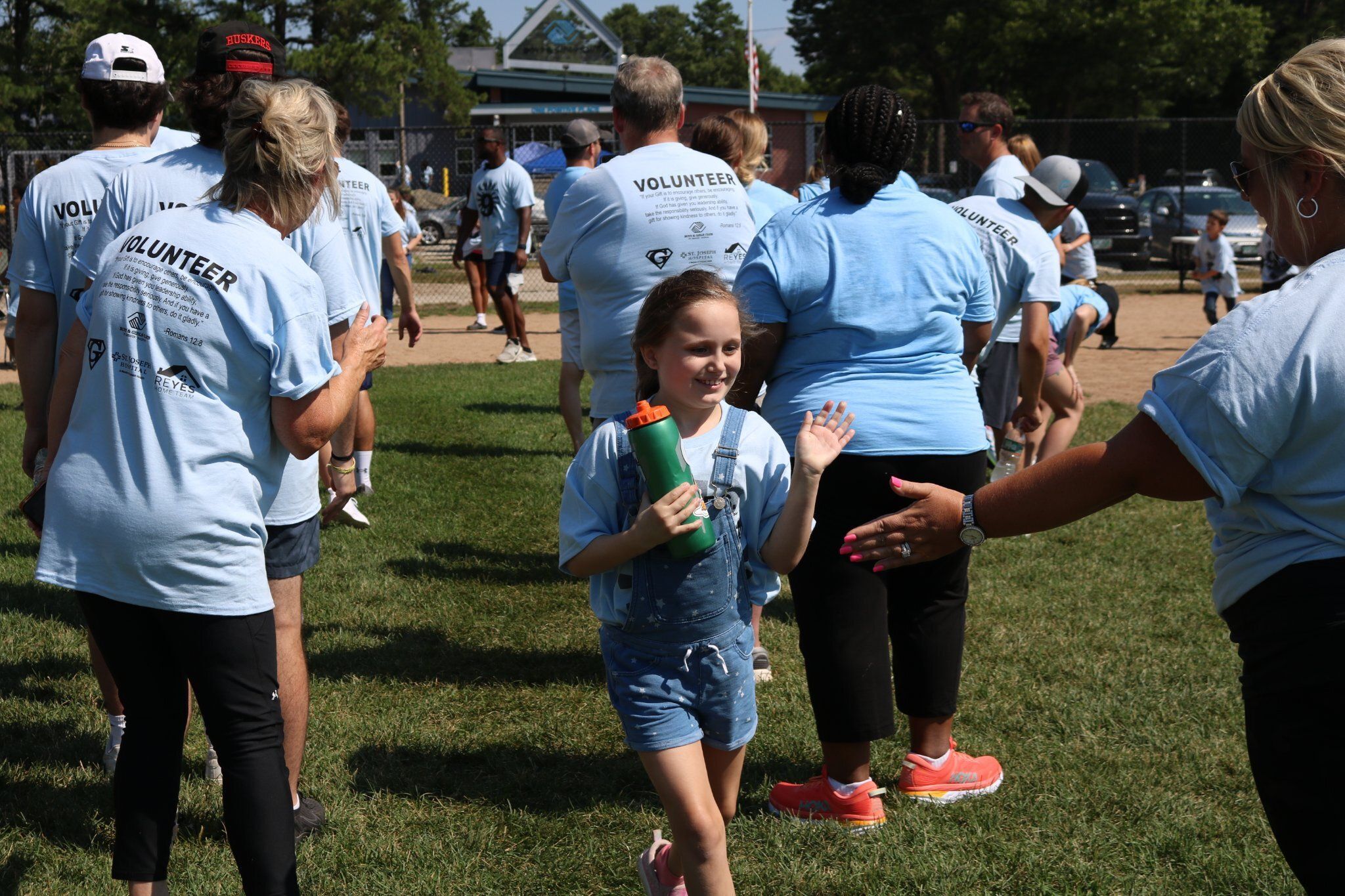 Working with youth today means a brighter future for everyone.
When you volunteer at the Boys & Girls Club of Greater Nashua, you can help make a difference in the lives of youth and give back to your community. Within the first few minutes of walking into the Club, you will know you're in a special place. Filled with the sounds and energy of our spirited Club members and friendly, caring staff members, our Club is a fun and hopeful environment. Whether you assist with our homework help program, coach a sports team, or teach an art project, you'll have the opportunity to build healthy relationships with our Club members who are eager for adult guidance, and have a positive impact on their lives. In turn, you will find that spending time with our Club members will have a positive impact on you as well.
We could not accomplish all of our great work without the help of our volunteers! Our volunteers are a mixture of different populations who are interested in and dedicated to giving back to the youth of our community. Our volunteers include former Club members, parents of Club members, current Club members, and outstanding citizens who share a passion for mentoring and youth development. Our Club is also supported by a committed group of people who serve as members of our Board and Trustees of the Boys & Girls Club of Greater Nashua Charitable Foundation.
Becoming a Volunteer

We identify volunteers as individuals who choose to contribute their time and services in one or more of our Club's core program areas or in some organizational capacity to help assist the Club in reaching our mission. Volunteers can help assist the Club in two different ways:

Short-Term Commitment: Volunteers can choose to participate for a brief or specific period of time, whether it's for a special event or specific program.
Sustained Commitment: Volunteers participate during the school year or summer programs, donating time and energy on a regular weekly or monthly basis in daily program areas.

Requirements for Volunteers

Volunteers interested in working directly with children should contact the Clubhouse Individual Services Director to discuss interest and availability. You can reach the Senior Director of Program Operations at 603-883-0523 x 228 or afudala@bgcn.com
Once a volunteer application is received, the potential volunteer must complete a Volunteer Orientation with the appropriate staff member to meet volunteer requirements which may include a background check if working directly with children. During the Volunteer Orientation, a staff member will be identified as the appropriate person that the volunteer may receive assignments from or check in with regularly.
Individuals interested in volunteering who are under the age of 18 must become a Boys & Girls Club of Greater Nashua Club member before they can volunteer. Minors interested in volunteering are not required to complete a background check.
After the volunteer application has been received and the requirements have been met, the volunteer will receive their volunteer assignment and meet the appropriate staff members that they will be volunteering with. Volunteers should meet regularly with an appropriate staff member to ensure the needs of the volunteer, organization and Club members are being met.

Volunteer Opportunities

At the Boys & Girls Club of Greater Nashua, we have a number of different core program areas that offer their own unique program focuses. Under each core program category below, you will find volunteer opportunities that are specific to that core program category.

Character & Leadership Development

Youth/Torch of the Year Judge
Leadership Group Mentor/Co-Advisor
Mentor for Mentoring Program
Childcare Group Leader Assistants
Teaching youth skills that can be used in leadership capacities

Education & Career Development

Power Hour Homework Help/Tutoring
Computer Skills Instructors
Job Shadowing Partners
Digital Art Instruction and Production
Lego Robotics Team Coach/Program Support
Language classes
Gardening program support
Computer Coding Classes
Basic Computer Skills Classes

Cultural Arts

Arts & Crafts Instructors
Drama Production
Photography
Dance Instruction
Music Instruction

Sports, Health, and Fitness

Food Preparation for daily meals
Referees and Umpires for Sports/Water Sports
Field Trip Chaperones
Timekeepers/Scorers
Team Coaches
Lifeguards
Game Instructions
Games Room/Recreational Programming Assistant
Camp Mariposa camp counselors/mentors

Club Support

Clerical Support
Marketing and Public Relations
Data Entry
Special Event Committee Member
Special Event Volunteer
Maintenance
Adult volunteers
Adult volunteers interested in working directly with children should contact the Senior Director of Clubhouse and Individual Services, to discuss your interest and availability. Please complete the volunteer application. You can reach the Senior Director of Program Operations at 603-883-0523 x228 or by email.
Youth volunteers (Ages 16-18)
Youth volunteers interested in volunteering at the Club will be required to complete a Club membership application, volunteer paperwork, and attend volunteer orientation. To become a youth volunteer, please reach out to the Senior Director of Program Operations at 603-883-0523 x228 or by email.
Corporate volunteers
Interested in volunteering for special events or projects or to provide other Club support should contact the Senior Director of Program Operations at 603-883-0523 x228 or by email to discuss your organization's interest, group size, and availability.
To learn more
about how the investment of your time can impact young people in our community, contact us through the form below: